You want your child to get an early start at a healthy life and their eyesight is a big part of this. This is why it's important you have your child's eyes examined throughout the various stages of their development. Diagnosing eye problems early can help save your child from possible vision loss as they get older. It also helps set them on the right path of their learning journey.
Reasons Why Children Should See an Eye Doctor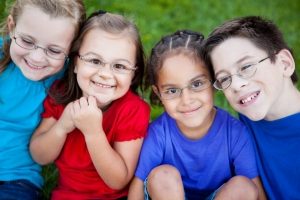 According to the American Academy of Ophthalmology, it's important to have your child's vision checked:
When they're first born
During their infancy
During preschool
Throughout their school years
Here's why:
1. Their Vision System Isn't Fully Formed
Good vision is an important part of your child's:
Success in school
Physical development
Overall well-being
Babies and younger children's vision system isn't fully formed yet and having equal input from both eyes is needed for the vision centers in the brain to develop normally. If your child's eyes can't send their brain clear images, their vision might become limited in ways that an eye professional can't correct later on in life. However, if an eye professional detects problems early, it's typically possible for them to treat them effectively.
2. They Have Certain Risk Factors
Kids with ocular symptoms and signs need a prompt comprehensive eye exam. Even more, having certain risk factors might necessitate examinations more often, based on expert judgment. Factors that could put your child at risk for vision and eye problems include:
Low birth weight, prematurity, prolonged supplemental oxygen at birth
Infection of mom during pregnancy (i.e. toxoplasmosis, rubella, herpes, venereal disease)
Family history of strabismus, myopia, retinoblastoma, amblyopia or congenital cataracts
Maternal use of alcohol, smoking or illicit drugs during pregnancy
High or progressive refractive error
Cortical visual impairment
Wearing contact lenses
Anisometropia
Systemic health disorders with possible ocular manifestations
Previous eye injury or eye surgery
3. They're Displaying Signs of Vision Problems
You'll want to bring your child in for an eye exam if they:
Read slowly
Complain of headaches
Blink excessively
Complain of burning, itchy or watery eyes
Have problems copying from a textbook or chalkboard
Have problems with coordination in sports
Feel tired after reading
Move their head back and forth rather than just their eyes while they read
4. Their Eyes Don't Line Up With One Another, or They Cross
If this is happening, it could be a sign of strabismus (eyes aren't aligned). The eye doctor might put a patch over your child's stronger eye to help strengthen the weaker eye. Or, they might prescribe eye exercises or special glasses.
5. They' Can't See Things Close Up
This could be hyperopia or farsightedness. The doctor will likely prescribe them contact lenses or eyeglasses to help with their close-up vision.
6. They have Blurry Vision
Blurry vision could be an issue known as astigmatism. This is where the cornea of your child's eye can't focus clearly on images because it's curved. Eyeglasses might help with this.
7. They Can't See Things Far Away
It could possibly be myopia or nearsightedness. Again, contact lenses or eyeglasses could help improve this problem.
Less common issues include:
Cataracts: These cloud your eye lens. While they typically affect older adults, some children can have them at birth or end up with them due to childhood diseases or diabetes.
Glaucoma: A group of diseases that cause damage to the main nerve of the eyes. Again, it's more common in adults, but children can have glaucoma at birth or develop it as they grow.
Retinoblastoma: A rare retina cancer.
Sometimes, it can be hard with children to know if they're experiencing any eye problems because they might not tell you even if they do know there's a problem. Or, you might not be able to describe the issue they're having accurately. For instance, if your child has been suffering from poor long-distance vision for a significant period, they might not realize they have a problem.
So, this is why it's important to bring your child to the eye doctors for a routine comprehensive eye and vision problem exams.
What the Eye Doctor Will Check For
A thorough pediatric eye exam will check problems that are critically important for learning, and for avoiding future issues like:
Near vision
Distance vision
Binocular (two eyes) coordination
Focusing skills
Peripheral awareness
Hand-eye coordination
Eye movement skills
Obtain a Comprehensive Eye Exam for your child
Powers Eye Center offers comprehensive, thorough eye exams for children (ages 5 and up only) and adults. In fact, Dr. Neil McAllister recommends yearly pediatric eye exams because kid's eyes can change fast. Dr. McAllister sees kids ages five and up. Poor vision can significantly hinder your child's ability to develop and learn. So, if you suspect your child has an eye or another type of vision problem, Dr. McAllister highly recommends an eye exam.
At Powers Eye Center, the primary focus is on our patients. We want you and your children to have the sharpest vision possible. If you're looking for a family-friendly, warm atmosphere with a private eye doctor and the latest innovative technology, Powers Eye Center is your place.
With more than 30 years of experience, Dr. McAllister provides solutions to even the most challenging eye and vision issues, while practicing only the best quality of care. Contact our office to schedule your child's comprehensive eye or vision exam today.
Office Hours & Info

6160 Tutt Blvd #220
Colorado Springs, CO 80923
719-598-5068
Schedule an appointment at any time using our online scheduler or find directions and contact info for our office.