Advanced Digital Eye Exam
Powers Eye Center has a complete array of digital technologies to enhance your eye exam.
Digital Refraction (measurement of prescription)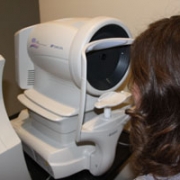 Our digital refraction technology includes wavefront refraction with the same sensor technology used to focus space telescopes in addition to standard rotary prism infrared refraction. To ease the patient exam experience our optometrist uses digital phoropters. We also have a digital lensometer, field analyzer and more. We perform advanced corneal topography (eye surface shape mapping) to ensure you get the best prescription and contact lens fit possible.
Advanced Digital Retinal Imaging and Diagnostics
Our Colorado Springs Eye Doctor Office has three types of state of the art retinal diagnostic instruments on-site and a complete array of digital eye exam technologies to provide you with the best eye doctor experience possible.
Standard Digital Retinal Imaging

Our digital retinal camera provides excellent clear imaging of the central 45 degree view field of the retina. This area contains the macula which provides patients with their central vision. The macula is responsible for 20/20 vision. Macular degeneration is one of the most common retinal diseases of the macula.

Optos Optomap Wide Field Retinal Imaging

We offer optional wide field retinal imaging for an additional fee that can often take the place of having your eyes dilated. Wide field retinal imaging provides a view of peripheral retinal structures where common retinal diseases such as retinal detachment, retinal tears, tumors and other problems can occur. The optomap image is captured in one quarter of a second using a scanning laser and spares the patient the misery of hours of blurry vision, extreme light sensitivity, hazardous driving caused by eye dilation or prolonged exposure to intense light from manual eye exam instruments. At our optometry office, we archive all optos images for use in future comparisons of any relevant eye problems.

Optical Coherence Tomography

Our OCT machine provides near microscopic intraretinal views of the sub layers of the retina and other structures. This device provides advanced diagnostics of macular degeneration, glaucoma and other problems.
At Powers Eye Center, we have invested in the technology to provide you with the best comprehensive eye exams. We care about the health of your eyes!
Office Hours & Info

6160 Tutt Blvd #220
Colorado Springs, CO 80923
719-598-5068
Schedule an appointment at any time using our online scheduler or find directions and contact info for our office.