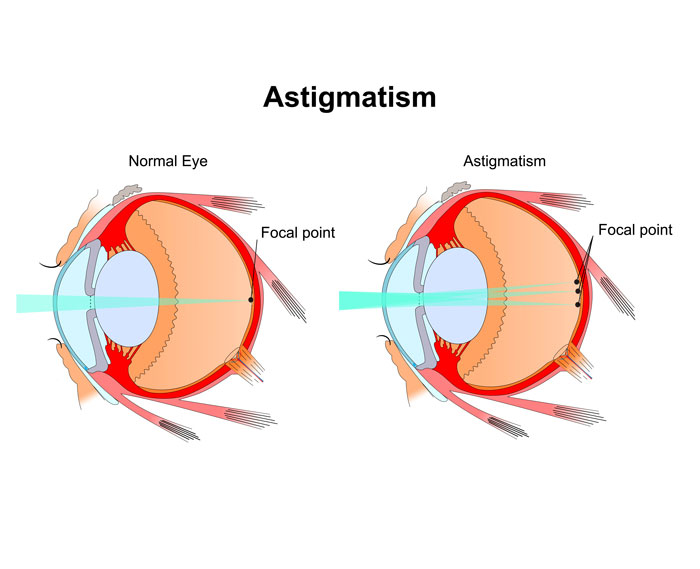 For a long time, people with astigmatism could not wear contact lenses successfully. However, modern advancements in contact lens design have given people with astigmatism the freedom to enjoy life without glasses. At Powers Eye Center in Colorado Springs, we are your contact lens specialists. Our optometrist can fit contact lenses for people with astigmatism, as well as other complicated eye conditions. If you have astigmatism or another eye condition and are still interested in wearing contacts, schedule an appointment online now. Our eye doctor will be happy to assess your situation and explain the various options available to you.
Types of Contacts for Astigmatism
There are three basic types of contact lenses for people with astigmatism:
Soft toric contact lenses – Soft toric lenses have a design feature that stabilizes rotation in the eye. This provides a correction that stays in the proper meridian of the lens and does not shift. Many types of stabilized contact lens designs are available. Our optometrist at Powers Eye Center can help you find the right one for you.
Gas permeable (GP) hard contact lenses – Gas permeable lenses have been used for decades and provide a unique solution for many vision problems including astigmatism. High prescriptions can usually be corrected with exceptional sharpness of vision. These lenses do not require rotational stability because they have a rigid, hard surface that retains its shape over the eye. This proper curve replaces the irregular curve of the eye for the purpose of focusing light. Dr. Neil McAllister has extensive experience in the fitting of toric (astigmatism correction) gas permeable contact lenses.
Hybrid contact lenses – Hybrid lenses attempt to address the issue of comfort while retaining the quality of GP lenses. These lenses have a hard GP center that light focuses through and a soft outer 'skirt' that rests against the eye. For many people, these lenses are the best of both worlds.
Office Hours & Info

6160 Tutt Blvd #220
Colorado Springs, CO 80923
719-598-5068
Schedule an appointment at any time using our online scheduler or find directions and contact info for our office.